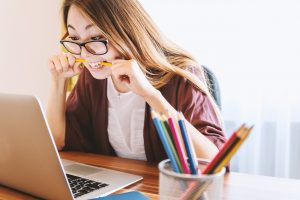 Some may think that nowadays writing skills are not that important because it's better to know coding, big data management or finances. But we can argue with 100% confidence that this competence is much more important now than it has ever been before. Due to the fact that almost every person out there can put together words into sentences, it is necessary to learn how to stand out. After all, if you know how to create a website or what impacts the exchange market, in what way will you get some recruiter or company representative to find that out about you? The job environment is very competitive at present, so you won't be able to do without writing.
In order to master this part of your skill set better, we've come up with the list of separate aspects that you need to tend to if you wish to succeed in your future career. Read further to learn them and start practicing right now!
1.  Critical Thinking
This is a general skill which is very significant for each profession out there. It helps to analyze the information, draw conclusions, and distinguish between the useful data and trash. It is also an ability to gain some knowledge in the process of analysis and, then, use it in practice in a similar situation. Right now, it is the skill that almost every employer seeks, so you need to boost it for the sake of getting any job. And as for writing, if you lack it, one can see it right away even from a brief email you might send to your colleague.
2.  Logical Line of Thought
If you need to construct a report, letter or any other work-related piece of writing, you won't do without a logical line of thought. You must be able to express facts or views in the proper sequence so that the reader could follow your thread. The logic makes anything you produce in the written form purposeful and coherent. If you miss out on this one, all the people in your future company will have to come up to you and discuss things in person, and, eventually, they will get tired of it.
3.  Vocabulary
To show your intellectual and educational level, you should master more words than "Yes", "No" or "Maybe". The more efficiently you will be able to express yourself, the better the impression you will make. Of course, here you also want to be careful because too much of eloquence might seem that you're showing off. But you should figure out the limit yourself.
In order to improve your vocabulary, read the literature on the industry you're going to work in and watch specialized documentaries/videos/channels, etc.
The role of writing in your life can't be overestimated. It is important for nearly every aspect of your everyday routine: communication with friends, social media, personal correspondence, studies, and, especially, job. So, hone the right elements of this skill (critical thinking, logical line of thought, and vocabulary) to rock your future career!