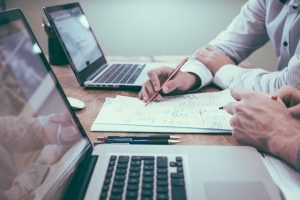 Preparation
Before getting started we must define what the seminar paper actually is. Seminar paper is an advanced original research work which is usually presented during academic settings to the interested audience. Though this genre shares many features of its features with the usual research work, there are some fundamental differences one must consider in order to nail the genuine image of how to write seminar paper:

seminar paper requires a vast number of relevant sources
it also requires you to write extensive notes (endnotes or footnotes to provide the readers with needed information).
as it was mentioned above – seminar paper is an original work, so you are to present some new ideas instead of rewriting old ones. Make sure you contribute to existing scholarly works on the subject.
Getting started
What is the first step in any research work? Of course it's shaping your ideas, reading source materials and writing notes. First of all it is recommended to start with wide questions which will state the general ideas of you research and guide you through the entire process of writing.
look for the similar topics to get new ideas in addition to the existing.
narrow the research fields and divide them into several related groups.
write reasonable questions to the information you have found to be sure it concerns your topic.
write down all the ideas that come to your mind.
define what is the core of your research, then add peripheral ideas.
plan your work ahead (start with framing a work plan, divide your work into parts).
After gathering the source material make sure it is trustworthy. Use only well-known subject-filed magazines and approved databases, try to avoid full of advertisement web-sites. Remember that using irrelevant or inadequate sources may influence your own credibility as an author.
check if the authors you use are qualified professionals.
think about if the authors present an objective, well-reasoned point of view without bias.
There is also one point that is rarely mentioned –reread your sources every once in a while to make sure they don't contradict each other. Mention all the authors you use in your work to avoid plagiarism, as it may lead to failure.
Try to interest your readers from the very beginning. Make sure you state the main ideas in the introduction section, use sentences that are not long and complicated as it would distract the attention, and check if the work is written clearly without tautology. You should also provide the readers with needed background information to lead and let them understand what you are talking about. Keep in mind that this information must help, but not add even more new points.
Divide et impera!
Group up the topics you touch upon and make sure that the work structure is not violated.
use only one idea per paragraph, headings and subheadings to make your work readable (avoid stacking the text into a big column).
Finishing touches
Concluding is probably the most difficult part of the entire work as you are to synthesize all the results in several sentences and underline strong sides of the seminar paper.
explain the scholarly value of your work.
summarize all you have touched upon and discussed.
compare your results with the results of other researches, point out the new.
And last but not the least, the final tip on how to write seminar paper – add the bibliography section. Be sure you use the right citation style mentioned by your research supervisor!