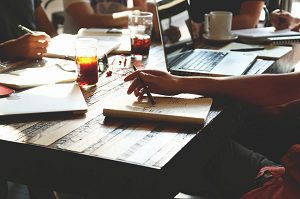 When assigned with the task of writing, whether a term paper, a research paper or an essay, you may have one goal – to generate a top-notch project that will stun your professor and guarantee the top grade you deserve. The key to your high quality academic paper begins with the thesis statement. This thesis statement guide is going to give you some valuable advice in the matter.
Every paper starts with an intro and a concise thesis statement. The latter is a must have of every piece of writing since it provides you with a clear starting point. Of course, we all know that it is very hard sometimes to sit down and start working on whatever you're assigned with. A blank page is pretty discouraging for the majority of students. Thus, it's the right time to get focused and to know a little more about what thesis statement is and how one can produce it constructively.
Start with the Question
It does not matter how tough the subject you're dealing with is. Almost every thesis can be generated constructively simply through answering a question.
Tailor the Thesis Statement according to Your Paper Type
Not every essay is made to persuade, and not every essay is tailored to teach. Make sure to determine the goals of your academic assignment in order to create the best thesis. For instance, if you're required to write an analytical essay, mind that it is used to break down some data to get a better understanding of it. As for the argumentative essay, it's used to support an opinion and make a claim in order to change the other individuals' minds.
Take a Certain Stance for a Powerful Thesis Statement
The author of the essay must thoroughly address a single issue in order to fully back your points up in the project body.
Provide a Fresh Argument
The best theses find a great way to approach a particular topic. They are dynamic and fresh and this pours out into your academic piece.
Make Sure Your Thesis Can Be Proven
Never come up with your thesis and then look it up hell knows when. The thesis is what they call "the final point of your academic research", not the starting one. That is why you have to use a thesis you are actually able to support with evidence.
Structure Your Thesis the Right Way
Being aware of basic formulas will both keep your thesis statement within the required length and enable you to see in what way your argument should be organized. It is important to include two essential parts into your thesis statement that are a short summary of what you're about to say and a clear topic.
Write down the Thesis Statement
Putting down the preliminary thesis statement will enable you to develop your ideas further, to ponder over the way you're going to structure it and to clarify the project content.
In conclusion the most important part of developing a thesis statement are the sound layout and logic. Make use of the above thesis statement guide to shape a pleasure to look of your academic paper.