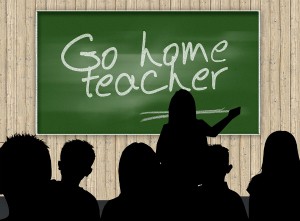 While the US society never stops debating over the abuse in high schools, one should remember that 19 American states still allow corporal punishment in public schools. According to the recent federal data analysis, on average one kid gets hit in a public school every thirty seconds in the USA.
Even though corporal punishment in schools is banned in thirty one state, there are some areas, where authorities still allow it: Arkansas, Colorado, Florida, Oklahoma, South Carolina, Tennessee, Texas, Idaho, Indiana, Kansas, Missouri, North Carolina, Wyoming, Alabama, Arizona, Georgia, Kentucky, Louisiana and Mississippi. In some regions, the parental permission is required. And the truth is that it's usually given. As a rule, it's more typical of the state of Texas, being less prevalent in Wyoming. The last state among those leaving the practice behind was New Mexico.
The practice persists since a lot of parents and educators are sure that corporal punishment helps to deal with disruptive behavior. But the reality is that there is no solid evidence that it really is helpful to any extent. Some of the public schools' students are hit for serious violations of school rules, while the others are punished for some minor infractions, such as being late for the lesson.
How many children are punished? In accordance with the federal data analysis between 2009 and 2010, 838 kids in public schools have been hit on a daily basis (180 days out of 1 academic year). As reported by the Children's Defense Fund, that would be 150 840 cases of corporal punishment annually which is a pretty stunning number. Researches show that students with disabilities and African-American kids are usually the subject to corporal punishment in schools.
When speaking about how hard students can be hit, the regulations vary. For instance, Elizabeton City School that is located in the state of Tennessee is known for the banned "bodily injuries", while the other punishments are allowed. Various states offer a great number of lawsuits that reveal parents complaining about their kids being severely hurt due to different corporal punishments.
In Holms High School located in Bonifay, Florida, students of the woodshop class are required to make the so-called paddles to be used for punishment. As stated by the school authorities, the paddle is made of ash wood and very sizable. 5 inches wide, 16 inches long and half an inch thick.
While some parents give their permission for corporal punishment, a lot of Americans think that spanking kids is not acceptable. Probably the reason lies in the obscurity of regulations regarding the "corporal punishment".
References:
Baumrind, D. (1997). Necessary distinctions. Psychological Inquiry, 8, 176 – 182.
Buck, J., Holden, G. W., & Stickels, A. (2001, April). The onset of physical punishment and other disciplinary techniques: A longitudinal and pre-dictive analysis. Poster presented at the biennial meeting of the Society for Research in Child Development, Minneapolis, MN.
Tremblay, R. E. (1995). Kindergarten behavioral patterns, parental practices, and early adolescent antisocial behavior. In J. McCord (Ed.), Coercion and punishment in long-term perspectives (pp. 139 – 153). New York: Cambridge University Press.
Van Houten, R. (1983). Punishment: From the animal laboratory to the applied setting. In S. Axelrod & J. Apsche (Eds.), The effects of punishment on human behavior (pp. 13 – 14). New York: Academic. Vasta, R. (1982). Physical child abuse: A dual-component analysis. Developmental Review, 2, 125 – 149.
Gershoff, E.T. (2002). Corporal punishment by parents and associated child behaviors and experiences: A meta-analytic and theoretical review. Psychological Bulletin, 128, 539–579. Gershoff, E.T. (2008).
Report on physical punishment in the U.S.: What research tells us about its effects on children. Columbus, OH: Center for Effective Discipline.
Child Welfare Information Gateway. (n.d.). State Statutes (searchable online database). Washington, DC: US Department of Health and Human Services Administration for Children and Families.
Grogan-Kaylor, A. (2004). The effect of corporal punishment on anti-social behavior in children. Social Work Research, 28, 153–16.