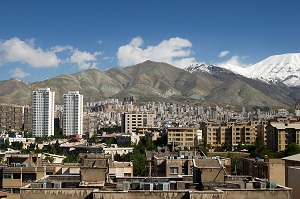 Kurds, Persians, Arabs, diplomats, intellectuals, political activists… They all have been victims of the aggressive recent history of Iran. In 1980-88, the country was involved in the Gulf War fighting against Iraq, and then it was fighting against the ghostly enemies of the Islamic Republic (such as Israel and US). Opposition politicians and dissidents were considered as enemies too. Instead of fighting its own corruption, Iran has been searching for the enemy outside turning itself into a country of the wealthy and survivors.
By the end of the Iran-Iraq War, in 1988, an Iraqi town Halabja inhabited by the Kurds was destroyed by chemical weapons. 3 thousand of people were killed and 10 thousand injured as a result of cyanide poisoning
It was not the first and not the last attack performed by Iraq in which chemicals were used. In 1991, there has been an estimate of 50 to 100 thousand victims of Iraq's chemical attacks. In 1987, the Patriotic Unit of Kurdistan asked the Red Cross and the UN Secretary General for gas masks and medicine. Even today, 5 million Kurds in Iran are treated mostly as enemies these days.
In 1988-1998, people in Iran were killed for not agreeing with the politics of the Islamic Republic. 80 intellectuals faced death by a variety of means, most of which simulated either natural causes or bad chance circumstances. In 1998, a leader of the Nation of Iran Party, his wife and three prominent writers were killed within a short period of time, which draw attention to the murders and then parallels between them. The officials blamed it on Intelligence Office's employees, but thorough investigation conducted by journalists Akbar Ganji and Saeed Hajjarian came close to exposing the guilty. Some time later, Ganji was imprisoned, and Hajjarian shot in the head, which paralyzed him for life.
The pro-Islamic Republic forces were not only exterminating people on its own territory. In 1983, the entrance to the US Embassy in Lebanon was blown up by a massive explosion. Anne Dammarell, a US diplomat at the time, is the survivor of the tragic event that took lives of 63 people. She wrote an article to the Wall Street Journal telling about her traumatic experience and how she and other survivors of the bombing took the case against Islamic Republic of Iran to the US federal courts and won it. Iran owed about $320 to 47 terrorism victims, which hasn't been paid yet.
Following a long history of human rights violation and violence against people, USA and European countries imposed economic sanctions that limited the country's importing capabilities. The country's Central Bank issued subsidized dollars, but their distribution was not equal between the sectors. Nevertheless, import of luxury items, such as cars, increased significantly — it doubled between 2011 and 2013 and reached $1.6 billion. Car importers benefited from a better dollar exchange rate more than importers of pharmaceuticals. Health minister Marzieh Vahid-Dastjerdi who questioned the officials about the use of subsidized dollars by car importers was replaced shortly after her public appearances.
Iran made too many people victims of its bloodthirsty regime, including political activists, intellectuals, and people of a large ethnic minority, the Kurds. It is hard to imagine the damage that ambitions of a particular power group has done to Iranian civilians, while the sum owed to individual survivors of a terrorist attack is estimated at $6-7 million. At the same time, the average family's income is about $6,500 annually. They are often deprived of not only the right to protest and disagree, but the right to get their medicine in time and in necessary amounts — all because the power group has other priorities and takes little interest in the matters of survivors.