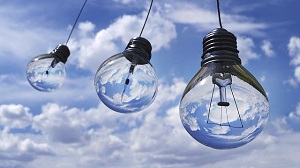 The world does not stand still, so do technologies, and the internet connection is not an exception. The rapid evolution of innovation technologies brings bad news for Wi-Fi: today a light bulb can help you surf on the web 100 times faster. That means the new development is able to offer up to one gigabit per second.
This wireless technology was invented by Harald Haas, professor from the University of Edinburgh. It is quite similar to Wi-Fi connection, however, it does not use radio waves but transmits information through light instead. Which means Li-Fi connection involves a light source like a LED bulb along with the internet access. Moreover, the technology has a number of significant advantages over its popular predecessor.
Li-Fi provides a higher level of security on local networks, because the light cannot go through walls. That means as well that there is a lower level of interaction between devices. But the most considerable benefit is the speed, which is offered by the technology. The speed of 224 gigabits per second was achieved by the researches in lab conditions.
The ultra-fast competitor of Wi-Fi is steadily leaving scientific laboratories and moving to the real world. An Estonian startup Velmenni has already executed the new technology on commercial terms. The startup reveals that it has started to trial Li-Fi in industrial conditions and offices in Tallinn.
The technology used by them in the experimental mode can transmit data at the speed of one gigabit per second. That means, that the user can download a high-definition movie in a few seconds with the help of a bulb.
The CEO of Velmenni Deepak Solanki says they are currently working on different experimental projects, utilising visible light communication. At the same time, the company is designing smart solutions for industrial conditions. Moreover, Velmenni is working on a project with private clients to set up Li-Fi networks in the offices.
Li-Fi is not able to replace Wi-Fi completely, although both technologies can be used together to establish efficient and productive networks. Solanki claims, that the successful pilot projects can move the new technology to consumers in three or four years, providing people with the internet access using LED bulbs at home.
However, before Li-Fi can appear at the mass market, significant methods have to be created to upgrade current devices. It is not easy to establish a completely new infrastructure for the technology, that's why the Velmenni's system needs to be integrated with the existing one.
Professor Harald Haas is very optimistic when talking about Li-Fi. He says, that soon any LED bulb can be used as a super-speedy option for the networks. He also emphasises, that modern devices are suitable for the Li-Fi integration.
A tiny microchip which fits every lighting device will do two essential functions: highlighting and data transmission. Haas is sure, that Li-Fi bulbs will lead people to a brighter and cleaner future.
References:
Jyoti Rani, PrernaChauhan, RitikaTripathi. Li-Fi (Light Fidelity). The future technology in Wireless communication. International Journal of Applied Engineering Research, Vol.7 No.11, 2012.
Nivrutti, D.V., Nimbalkar, R.R. Light-Fidelity: A Reconnaissance of Future Technology. International Journal of Advanced Research in Computer Science and Software Engineering (IJARCSSE), Vol. 3 Issue 11, October 2013.
Little, T. Exploding Interest in Visible Light Communications: An Applications Viewpoint. Smart Lighting Annual Industry-Academia Days, February 13-15 2012.
Singh, J., Vikash. A New Era in Wireless Technology using Light-Fidelity. International Journal of Recent Development in Engineering and Technology (IJRDET), Vol. 2 Issue 6, June 2014.
Sonnad, A.M., Gopan, A., Sailakshmi N.R., Divya S., Ambika R. Recent Advancements in Li-Fi Technology. International Journal of Electrical, Electronics and Data Communication, Vol. 1 Issue 10, December 2013.
R. Karthika, S.Balakrishnan. Wireless Communication using Li-Fi Technology. SSRG International Journal of Electronics and Communication Engineering (SSRG-IJECE), Vol. 2 Issue 3, Mar 2015.
Abu-alhiga, R., Haas, H. Subcarrier-index modulation OFDM. Personal, Indoor and Mobile Radio Communications, 2009 IEEE 20th International Symposium on , vol., no., pp.177,181, 13-16 Sept. 2009.