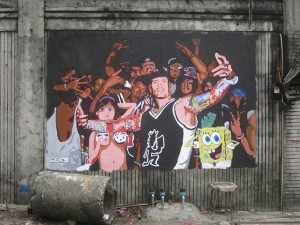 Every year, tens of thousands people with painted faces and bodies get together in the Legend Valley, Ohio. They listen to the artists produced by the Psychopathic Records indie label, wrestle, sprinkle each other with Faygo cola, consume alcohol and drugs, and get "down with their clown" in other ways. What distinguishes Juggalos from the most fan groups is their community with its unique fashion, music, mythology, rituals, slang, and even economy. While Juggalos represent an unpopular subculture that is often frowned upon, their mere existence within the capitalist American society remains a notable cultural phenomenon.
Originally, Juggalos was a fan community formed around the Psychopathic Records music label and the hardcore hip-hop band – Insane Clown Posse in particular. The latter was founded in 1989 by Joseph Bruce (Violent J) and Joseph Utsler (Shaggy 2 Dope). The style of the MC duo is often attributed to as horrorcore — their lyrics revolve around supernatural-themed topics with the Dark Carnival as the main idea. The term "Juggalo" was first used in 1994 during the ICP performance. From that moment on, it is used to refer to the band's fans, their friends, and sympathizers of the movement.
While, most commonly, fans are united into groups by their affinity towards a certain cultural phenomenon, such as music band fans or a TV show fans, there are fan communities with distinct cultural values and traditions. For example, any pop star fans are connected exclusively by their fondness towards a particular star or even their intended resemblance to him or her. There are also groups of fans that share more, such as mythology (for instance, Harry Potter or The Lord of the Rings fans) or behavior (football fans). Juggalos, on the other hand, adopt features of a community, as they are united by more than a shared interest in the same style of music. Their members are referring to the movement as "family".
Subcultures like this are usually either devoured by the mainstream culture, similarly to punks who were turned into a fashion trend at some point, or remain on the margin of the society, such as Juggalos in this case. With their horror aesthetics mixed up with the working-class discourse, the Juggalo worldview also encompasses the ideas of misogyny, intolerance, and, in some cases, violence, which are all often associated with hip-hop subculture. Thus, during the 2010 Gathering of the Juggalos, a female performer Tila Tequilla was forced to leave the stage with bottles, spoiled food, and rocks. The Psychopathic Records fans have strengthened their image of a violent lot that shows no mercy towards performers not meeting their particular criteria.
Violence, drugs, unappealing appearance, and other attributes of deviant behavior establish Juggalos as a counter-cultural group in the American society. On the other hand, this rather small group of people might communicate the ideas which are already present to some extent in the mainstream society. There are larger, less defined and less controlled social groups, such as football fans or a drug-dealing networks in big cities. The Juggalo subculture needs more attention from the social and cultural studies scholars, as this movement can teach us something new and significant about the society that we live in today.
References:
Bringer M, Walton JH. Menace Or Music?: The Insane Clown Posse & Juggalo Culture. CreateSpace Independent Publishing Platform, 2015.
FBI — 2011 National Gang Threat Assessment. FBI, 2011.
Fostey N. ICP: Behind the Paint. Royal Oak, Michigan: Psychopathic Records, 2003.
Martinez E. Tila Tequila Attacked Video: Did Juggalos Throw Rocks, Feces?. CBS Interactive Inc., 16 Aug 2010.
Miller S. Insane Clown Posse, Their Fans, and the World They Made. Da Capo Press, 2016.
National Gang Intelligence Center Juggalos Intelligence Report. Public Intelligence, 26 Mar 2012.
Neely A, Marone V. From fan to fam: The bonding 'counters' in the Juggalo culture. Communication and Culture Online 5 (1), 2014.