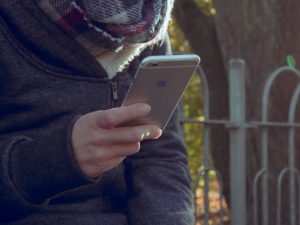 All of us heard about Pokémon GO and its innovative system, which allows users to look for their targets and interact with the environment right on the streets. Its successor is called the Physical Web. It is a brand new technology that makes it possible to set some web-sites, images and other stuff on a certain location in the real world. "What is innovative about such a technology?", one may ask – it's the way it works.

The Physical Web operates via "beacons". Several years ago Apple had developed a device that allowed users to anchor data, URLs, images etc. to iBeacon, but Google improved that and idea and made a step further in its development. Now it is possible to use a smartphone, laptop or PC to broadcast information, it can actually even be done without any additional hardware.
The main concept of the Physical Web is using location-based compressed links in Eddystone format (a Bluetooth Low Energy open format that is used to make beacons by Google, it can be detected by both Android and iOS systems) to broadcast and share files or contextual information, which is available to anyone and anybody at any time, in a certain coverage area. The point is that the potential audience expands tremendously, as any application can add Physical Web scanning functionality to make the in-application content available.
How does it work? One simply makes a beacon out of the device using certain software such as Node, Zadig and an online library "bleno" on a PC or application "Beacon Toy" for Android. Users of iOS can use "Slide-beacon app" by Electron to get into the Physical Web. Simple as that Receiving the Physical Web URLs is simple as well. If there is a Physical Web site in range Android users receive notifications, suggesting them to enable the system. After clicking on the notification users see the attached link. For iOS users it's not hard either. They just need to tag Chrome as Today in the Notification Center.
The technology of Physical Web is very progressive, with many spheres for potential application, for instance, one can use it to broadcast slides during a presentation, attach a physical beacon to transmit desired content much like in video games, beacons can be applied to smart bus stops sharing bus schedules and notifications for passengers or vending machines containing relevant information about products contained. Even hotels can use the Physical Web to improve their queuing system (once the guest arrives, beacon connects him/her to the hotel's queuing web application), public services can imply a similar system to calculate the approximate waiting time, which can be easily checked by anyone, content owners can increase their audience with the maximum flexibility.
There are dozens more ways the Physical Web can make our everyday lives easier and far more productive than it is today. As all modern IT trends lead to simpler applications, the innovative system of the Physical Web brings the future closer.
References:
S. R.Prabhu – Prathap A.Reddi: Bluetooth technology and its applications with JAVA and J2ME, Prentice-Hall of India – 2006
Lawrance Harte: Introduction to Bluetooth, 2d edition, N.p., 2009
William Stallings: Wireless communications and networks, N.p.
https://google.github.io/physical-web/get-started: Getting started guide.
https://bkon.com/resources/physical-web/. What is the Physical Web?