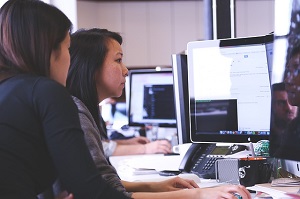 The new business simulation for students trend in higher education field binds theory and practise. During their study students have a possibility to compile a business plan, support individual and business bank accounts, trade online with other universities (without currency), work with coaches and take part in international and state competitions.

Smart Business Simulation
Virtual Enterprises, or simply VE, put emphasis on professional readiness. It is an international business simulator, which provides students with competitiveness through cooperative training and the improving of modern competency in enterprise, communication, world business, finances, technologies and problem solving.
VE is based on European model of training. This multivariate learning concept based on experience is a worldwide network of undergraduate entrepreneurs in more than forty countries. While studying at high school students are transformed into independent-thinking professionals, their lecture rooms become their offices.
Various Departments and Areas
VE reproduces the whole variety of real business features in practice and structure. With the help of mentors and curators, undergraduates establish and control their own virtual entrepreneurship from developing, producing and distributing products to sales, marketing, HR, finance and design. Their companies provide various services and products, such as technology, banking, financial consulting, advertising, publishing, tourism, application development, etc.
Undergraduate entrepreneurs choose areas of their businesses, usually HR, Finance, Administration, IT and Marketing. A CEO is elected by the class, as well as managers to control each area. Students work in groups and make necessary decisions to accomplish tasks of their departments supporting company's objectives and goals. Thus, they get a significant experience learning from their mistakes and achievements.
Learning by Doing Business
Like real staff members students are responsible for the efficiency of their entrepreneurship. They write business plans conducting researches of the market, create ecommerce websites, pay taxes and salaries and make up annual reports. These actions undergraduate entrepreneurs become professionals and get commercial savvy, presentation competence, corporate awareness, they know how to work in team as well. Besides, their activities run through different borders, industries and cultures, that's why undergraduates get a real idea about the worldwide economy.
Today there are about 5000 VE companies around the world. The funds transfer is implemented by an online banking system, which simulates a real one and links all the VE businesses with each other across the globe.
Learning is the Core
Four key learning approaches are essential for the virtual enterprise concept:
Students are responsible for their learning.
Students' training is genuine and practical.
Students learn from each other, understanding the importance and essential principles of teamwork.
Students make their own decisions and face the consequences to use new experience in the future.
Except a high start on careers VE program enhances undergraduates' educational achievements and skills, increases their interest in training and aspiration to graduate and to undertake self-education. When taking part in this business simulation for students they manage and develop their enterprise not limited by scholastic learning, but obtaining competence in communication, decision making, information analysis, problem solving, cooperation and technologies. That means, they gain key skills, which are essential to become successful in high school and in real life.