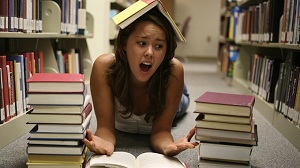 As your semester fires up and your academic schedule fills up, you feel like you're losing your ground. You're counting the days left before the vocation since there's no way that you can study twenty four hours a day any longer. For all those craving for the summer break, we provide these simple tips on how to handle college stress and make academic life running smoothly.
Know What Your Limits Are
Are you attending all the classes, working part-time in a local store as well as engaged with a wide range of extracurricular activities? Sooner or later the overload of the day will turn into a real academic hell. You should accept the fact that you cannot do everything at once. This will help you to stay concentrated on what is really important and what is absolutely pointless.
Consider Joining a Study Group
You may be going through the round-the-clock studying marathon, but the truth is if you are not studying effectively, you're just torturing yourself and causing even more stress in your academic routine. Make sure to join a study group. This will help you to complete the assignments on time (the fact is that procrastination is one of the major reasons why so many students are faced with the academic stress), to get a better understating of the materials you have to master, and bring your homework and social time into the right balance. In case there is no study group available in your college, it is time to start one.
Focus on Your Mental, Physical & Spiritual Health
You will be a more focused, happier and effective student, when you provide enough time for daily exercises, sleep and healthy delicious meals. Ensure to make time to enjoy the beauty of nature, listen to your favourite music, as well as engage in creative activities like painting, song writing and singing. Each of the activities mentioned above will naturally help you to feel healthier, stronger and motivated for school work.
Lower the Level of Non-Academic Responsibilities
A lot of students easily lose their focus. However, the number one reason why you are studying is that you need to graduate. If you fail to pass your classes, you will most likely fail to graduate. Make certain to prioritize all the commitments you deal with once your stress is getting over you. If your non-academic responsibilities add extra stress to your everyday life, figure out what is worth your attention.
 Don't Hesitate to Ask for Help
Getting help from pals or family helps one to feel capable, as well as have some rest. Sometimes just sharing your feelings about how severe your struggle is may help to reduce the stress. And if you have a huge list of assignments, remember that you can get a quick assistance from the class mates. Do not be shy to ask. Your friends are there to support you.